Sheet Music in Notation and Tabulature
Gross Ideas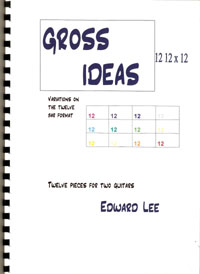 Twelve guitar pieces, all of 12 bar structure. Mostly in a 'modern' jazz (1945-60) style, but some cross over to link with rock and latin rhythms. In notation and standard guitar tablature, solo pieces, some single string, some in chord, all with rhythm guitar part and chord symbols for improvisation. Includes a booklet giving the chords and scales for improvising and mp3 tracks of the pieces and backing tracks recorded from MIDI sources.
Audio clips (mp3) from the book: Blue Eyes
Example of the pieces: Winder's Blues
Example of the notes: Winder's Blues
Cantelowes Manor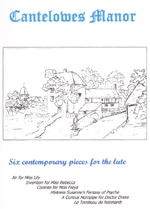 Six pieces for lute in notation and standard lute tablature for fingerstyle guitar. These are original compositions which do not set out to create music in copies of the styles for which the instrument was originally used. Instead the aim is to create modern music which takes inspiration from those styles.
The package includes all the pieces and renderings in mp3 format recorded from MIDI sources.
Example audio track: Coranto for Miss Freya