Sound Paintings - The Myth of Arcadia: Dawn
Watch the video or listen to the music

Moira created this picture as one of a series for the Dulwich Festival. Arcadia is a real region of Greece which became idealised by poets, as a place of beauty inhabited by beautiful young shepherds. more..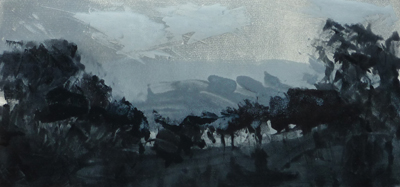 Dawn: Although the preparation for making a monoprint is time consuming and laborious, the actual process of printing can be speedy, intense and hugely enjoyable. more...
you are the music While the music lasts
(T S Eliot The Dry Salvages)
I took my cue from Ed's thoughts about the painting and the track. more...
---