WELCOME
Frances Lee is Scottish by birth but grew up in Littleport, in the Cambridgeshire Fens.
She had a varied career, working as a medical secretary, a translator, and finally as a teacher of French and English at the University of Westminster.
She has one son and lives in Camden Town with her husband and cat.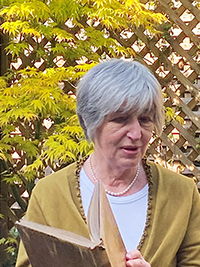 to the poems and
performances of
FRANCES LEE
She started writing poetry in 2014.
One Last Spring is a sampler of texts and recordings showing the style and range of her work.
Other recordings:
Breaking Cover
Love Loss and Longing
Surrogate
Trees
All available to be read and heard at francesleepoems.co.uk
All of the paintings which accompany these collections are by the artist Moira Jarvis (1949-2018). Moira was also from Littleport and was a lifelong friend.
Frances' readings and singing can be heard in the following recordings by Sounds Like, a group which created projects of words and music: War and Remembrance, Aspects of Love, Mary's Birthday, Mow Fen, Island, Love Is, Fleeting Moments.
All available on this site, starting from: words-and-music